COVID-19 Coronavirus Safe & Secure Taxi Service in Boston
As the Coronavirus pandemic has taken over the world and people are resorting to their houses to maintain social distancing, we want to make sure that our customers are aware of our safety precautions about the COVID19. As a taxi service, it is our top priority to take the necessary measures to control the spread of the virus.
While we encourage our customers to stay at home and maintain social distancing, we also make sure that those who require our service on an emergency basis don't have a toll on their health. We sanitize our vehicles thoroughly and provide our drivers with protective equipment such as masks and disposable gloves in order to restrict the transmission of the virus. Besides maintaining cleanliness and mitigating the chances of contamination, we also offer hand sanitizers for our customers to get rid of the contagion if any.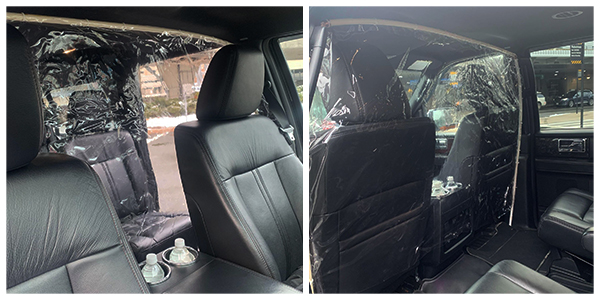 Moreover, our chauffeurs will carry your luggage and open the doors for you, so you don't have to come in contact with the outside of the vehicle. The insides of each car in our fleet are fumigated and deep-cleaned on a daily basis. Our drivers are regularly tested for the symptoms and are encouraged to maintain the utmost hygiene for their and the passenger's safety.
You can also choose to pay online while booking our services in order to avoid the physical exchange of money. Apart from the extra safety measures, our services include amenities like door-to-door pickup and drop, punctuality, luxurious and comfortable rides, well-kept vehicles, and professional chauffeurs.
Here is what people say about our Airport transfer service..
Mr Abdul can be trusted for an important transfer at any time of the day or night. Be it early morning airport transfer or busy hour meeting, I just call him and forget it. He manages the rest accurately. Good job.
Hans Patel, Lexington Ma
We do not have a car big enough for our entire family of 6 people. So when it comes to a weekend vacation or trip to granny's place for my children I trust BostonAirportCab. Spacious minivans is what I need and they have good prices on those.
Marth Simmons, Cambridge Ma