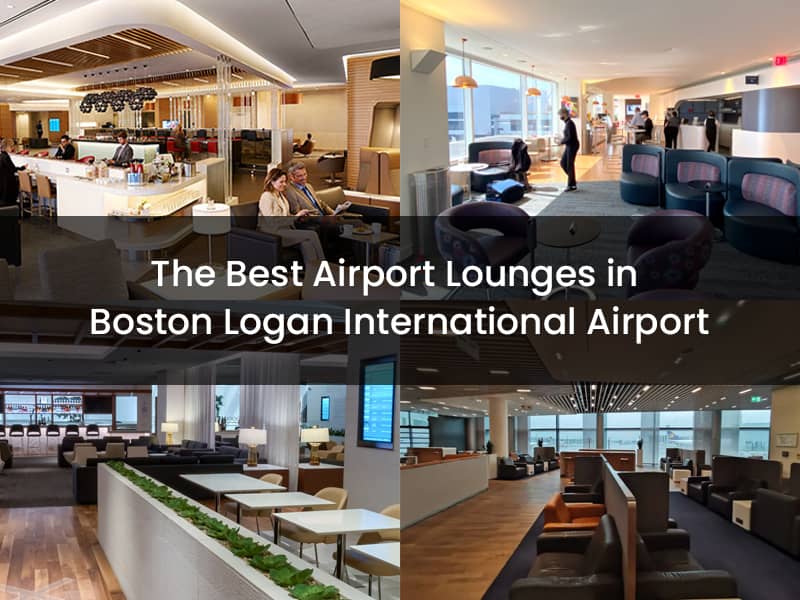 If you are a Business Class or First Class passenger, you get free access to lounges at airports. If you are in Boston and wondering which lounge you should visit then this is the blog for you. 
Keep reading to learn about the best airport lounge at Boston Logan International.
Virgin Atlantic Clubhouse, Terminal E
Located in Terminal E, Airside, near gate no. 9, the Virgin Atlantic Clubhouse opens three hours earlier than Virgin Atlantic departures.
You can access this clubhouse if you are travelling First Class with Virgin Atlantic. Keep in mind that this is not a Priority Pass Lounge.
The clubhouse does not have any source of natural light. While the look and feel of the clubhouse are modern and there are ample seating arrangements, the lack of windows might make it feel a little claustrophobic to some people.
There is a self-serve coffee machine and you can always find staff around to ask for drinks. For food, there is a delicious assortment of delicacies including Hawaiian tuna, BBQ pork, and Vegetable Clubhouse plant burger.
Delta Sky Club, Satellite Terminal, Near Gate A7
Delta proved two Sky Clubs in Terminal A. Here's how you qualify for admission:
Buy a Sky Club membership.
Have a Platinum Card from American Express or the Business Platinum Card from American Express if you are flying Delta someday.
Travel on a Delta One Ticket (International long-haul or Premium Transcon flights).
If you hold Delta Diamond, Platinum, and Gold Medallions, you can get SkyTeam Elite Pass Status.
The one in the satellite terminal is the best clubhouse for comfort, cleanliness, and dining when compared the two. The one in Terminal A tends to be less crowded and also has a great view of the Boston runway. If you are seeking a bar, the lounge in the main terminal should be your choice. 
You also get a hot and cold buffet every morning in both the clubhouses. You can also get oatmeals, pastries, cheeses, cold cuts, and bread. In terms of drinks, you can get pretty much all the standard beverages including wine, beer, coffee, juices, and sodas. 
Delta Sky Club, Terminal A Near Gate A7
Located in Terminal A, near gate A7, the second-best Delta Sky Club is located in a stylish room. The room is decorated with subtle lighting, carpeted flooring, and floor-to-ceiling windows. There is an ample supply of power outlets, decent WiFi, and a bar with stools to catch a drink.
American Airlines Admirals Club, Terminal B Near Gate B4
This clubhouse at Terminal B offers a variety of seating options, a bar, a kid's play area, and a large window through which you can clearly see the runway. You can access the American Airlines Admirals Club if you are: 
Traveling on Quality Oneworld Long-Haul International First and Business Class flight on the same day.
An American Executive Platinum, Platinum Pro, and Platinum Members Traveling on a Quality Oneworld International Flights
A Non-American Advantage Oneworld Emerald and Sapphire Member traveling on any Oneworld flight
A concierge key member travelling on any American flight
The American Airlines Admirals Club has recently been renovated with a stylish and suave look that adds to its personality and quality. You get an excellent quality buffet breakfast where you can get cereal, pastries, oatmeal, bagels, fruit, yoghurt, and avocado toast.
Lufthansa Business Lounge, Terminal E
Located in Terminal E, the Lufthansa Business Lounge offers access to Star Alliance Gold cardholders and Miles and More HON and Senator cardholders along with First and Business Class passengers on a Star Alliance flight.
This Lufthansa Business Lounge is modern and stylish in every way. It has a lot of droplet lights hanging down the ceiling. There is also a large buffet area where you can get salads, cheese, whole fruit and fresh sandwiches. 
United Club, Terminal B
Found in level 3 of Terminal B, the United Club is everything you could ask from a clubhouse. It is accessible to those flying First Class or Business Class on United flights. There is ample seating space, including high top tables, cafe tables, and armchairs. 
The food is similar to what you would find in most United Clubhouses. You get choco chips cookies, brownies, cheese cubes, bread rolls, vegetables, corn salsa and much more. You can also get plenty of alcoholic drinks in the United Clubhouse, which you can order from the bartender. 
Image Credits- American Airlines, Virgin Atlantic, Eye of the Flyer, LoungeBuddy