In an attempt to increase safety measures for the passengers and drivers, Boston Airport Cab is installing partition screens in its minivan and SUV fleets. The decision comes as the latest step to ensure a safe and infection-free ride for both the drivers and the passengers. Minivans and SUVs are two of the most preferred vehicle types in the Boston Airport Cab fleet.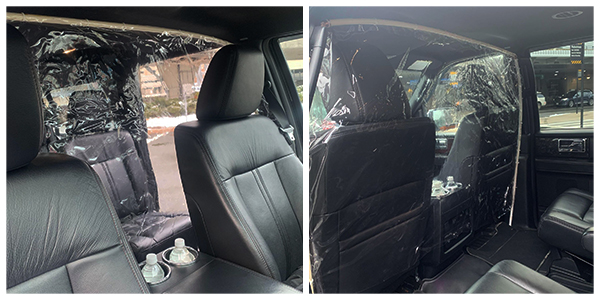 Boston Car service has taken numerous steps throughout the pandemic to make sure they remain operational without causing the virus to spread. Some of the steps taken by the company to restrict the spread of the virus include regular sanitizing of the vehicles, systematic temperature checks, providing the staff with masks, gloves, and other essentials, and making it mandatory for passengers to wear a mask while traveling.
The latest development in Coronavirus cases in Boston shows that people between the age of 0 to 29 make up for the largest portion of the overall cases. Boston Aiport Cab says that most of their staff come under that age hence taking extra safety measures was necessary. Since drivers have to share the confined spaces of cars with multiple passengers throughout the day, they are more likely to catch the virus, if special safety steps are not taken.
Boston Airport Cab will also thoroughly clean and sanitize all the vehicles while installing the partition screens as a part of the installation process.
2021 saw slight ease in regulations related to Coronavirus, which makes it more important time than ever to be cautious. One of the first things that come as a part of normality is to make transportation options safe for everyone. As a Boston taxi service, Boston Airport Cab is taking it upon themselves to make sure passengers are safe while riding with them.
During the early days of the virus, Boston Airport Cab had taken major steps to remain one of the operating transportation services in Boston. As a part of the safety measure, the company distributed hygiene kits to its drivers, thoroughly and regularly sanitized the vehicles, and encouraged passengers to maintain social distancing while traveling.