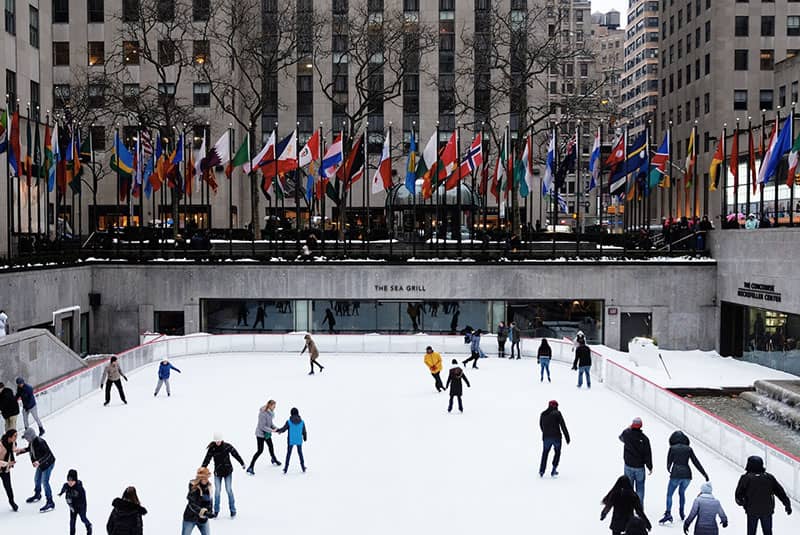 Winter in New York City is a magical time, with plenty of activities to keep you entertained. The city comes alive with a special kind of enchantment as snow blankets its iconic landmarks. Glide gracefully on the ice at Rockefeller Center, surrounded by the glittering skyscrapers, or enjoy serene strolls through Central Park's snow-covered paths.
Savor the warmth of rich hot chocolate in cozy cafes and immerse yourself in art, history, and culture at world-class museums. Marvel at holiday window displays, attend dazzling Broadway shows, and join the exuberant crowd at Times Square for a memorable New Year's Eve celebration, marking the season as a time of unparalleled charm and festivities.
Boston Airport Cab is at your disposal for any winter holiday transportation requirements.
Winter in New York in Winter
Winter weather in New York City typically spans from December to February, with some variations in timing and temperatures. Here's a general overview of what you can expect during the winter in New York:
Temperature: New York City experiences cold temperatures during the winter. Daytime highs typically range from 32°F (0°C) to 45°F (7°C), while nighttime lows can drop to 20°F (-6°C) or even lower, especially in January and February.
Snow: Snowfall is common in New York City during the winter months. On average, the city receives around 25-30 inches (64-76 cm) of snowfall each winter. Snow can create picturesque scenes in Central Park and other areas.
Precipitation: Besides snow, you can expect some rainy or drizzly days. Make sure to have an umbrella or a waterproof coat handy.
Places to Visit in New York in Winter
New York City offers a wide array of attractions to explore during the winter months. Here's a list of places to visit in New York in winter:
Rockefeller Center:
Be captivated by the enchantment of the annual Christmas tree lighting ceremony, a heartwarming tradition uniting visitors and locals. The moment the grand tree ignites with light is simply magical.
Following the ceremony, don your skates and take to the world-renowned ice rink at Rockefeller Center, all while being enveloped in festive displays and intricate holiday decorations that create a truly memorable seasonal experience.
Central Park:
Embrace the serenity of a winter wonderland, where the city's energy meets the tranquility of nature. Central Park, blanketed in pristine snow, transforms into a picturesque landscape. Frozen ponds become ideal for leisurely ice skating, while the annual Winter Jam event offers thrilling winter sports and activities. It's a perfect escape from the hustle and bustle of the city, where peace and beauty reign supreme.
Suggested Read- The Best Ski and Snowboarding Resorts in New England
Museums:
Escape the winter chill and immerse yourself in the rich cultural offerings of New York City. Explore the hallowed halls of The Metropolitan Museum of Art, where centuries of art history come to life. Wander through the contemporary masterpieces at the Museum of Modern Art (MoMA), or embark on a journey of scientific discovery at the American Museum of Natural History.
Don't forget the iconic Guggenheim, where both the art and architecture will leave you in awe. These world-class museums provide a warm and enriching respite from the winter cold, making it a perfect time for artistic and intellectual exploration.
Broadway Shows:
Indulge in the enchanting world of Broadway during the winter season. Broadway theaters come alive with top-quality productions and dazzling musicals, providing a perfect escape from the cold. The intimate, cozy ambiance of these venues becomes even more inviting as the temperatures drop. Whether you're a fan of classic shows or eagerly anticipating new releases, the magic of live theater in the heart of New York City is an experience you won't want to miss during the winter months.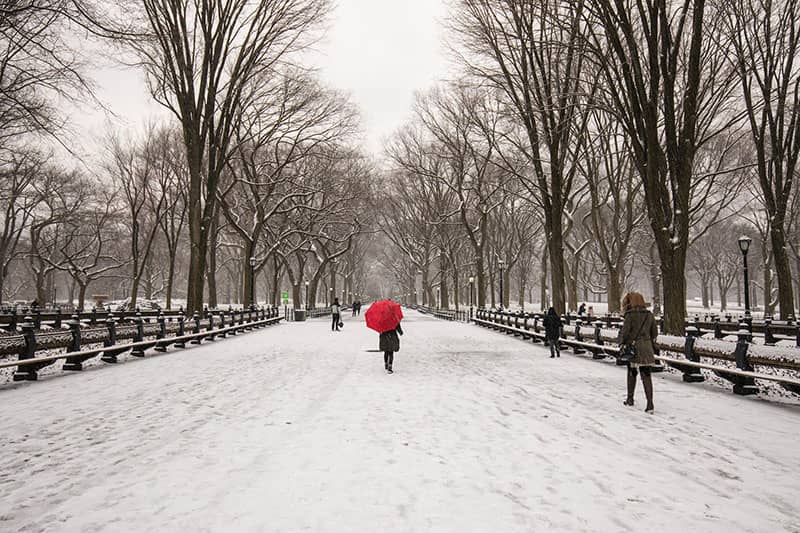 New York Botanical Garden:
Step into a mesmerizing world of miniature wonder at the Holiday Train Show. This enchanting exhibit showcases model trains winding their way through a scaled-down New York City landscape, set against a backdrop of lush botanical beauty. Each tiny locomotive traverses intricately crafted tracks, passing by iconic landmarks and charming neighborhoods. It's a heartwarming blend of artistry and holiday spirit, creating a unique and magical experience that captures the essence of New York during the winter season.
Storm King Art Center:
For a delightful winter day trip, venture to the scenic Hudson Valley and explore the outdoor sculptures at the Storm King Art Center. This expansive open-air museum features a captivating array of monumental artworks set against the stunning backdrop of the Hudson Valley's winter landscapes. The crisp air and serene surroundings provide a unique perspective on art and nature, making it a perfect getaway for those seeking both cultural enrichment and the beauty of the season.
Suggested Read– 8 Must Visit Places In Boston To New York Road Trip
Winter Village at Bryant Park:
Embrace the enchanting atmosphere of a winter wonderland in the heart of Manhattan's Bryant Park. Lace up your skates for a delightful spin around the ice rink, surrounded by the city's glittering skyline. Explore the seasonal shops offering unique gifts and warm up with a cup of hot cocoa. Savor culinary delights from the pop-up eateries, and don't miss the special events that add a touch of magic to this charming winter village, making it a cherished destination for both New Yorkers and visitors alike.
The Met Cloisters:
Escape to a different era by visiting The Met Cloisters, nestled within the peaceful Fort Tryon Park. This unique museum showcases a remarkable collection of medieval art and architecture. During the winter months, the serene surroundings are often blanketed in snow, creating a captivating juxtaposition with the ancient relics and grand stone archways. The tranquility of the season adds an extra layer of enchantment to your exploration of this cultural gem, making it a must-visit for art and history enthusiasts.
Winter Sports:
For an exciting winter adventure, consider a day trip or weekend getaway to the upstate mountains of New York. These snow-covered wonderlands offer fantastic opportunities for skiing and snowboarding. A short journey from the city, you can explore destinations like Hunter Mountain, Windham Mountain, or Whiteface Mountain, where you can hit the slopes, take in breathtaking mountain views, and enjoy the cozy atmosphere of mountain lodges. Whether you're a seasoned enthusiast or a first-timer, these nearby resorts provide a winter escape brimming with outdoor fun and snowy beauty.
New York City transforms into a magical and festive destination during the winter season, offering a wide range of activities and experiences for visitors and locals alike. Whether you're interested in holiday traditions, cultural enrichment, or enjoying the beauty of a winter wonderland, NYC has something for everyone.