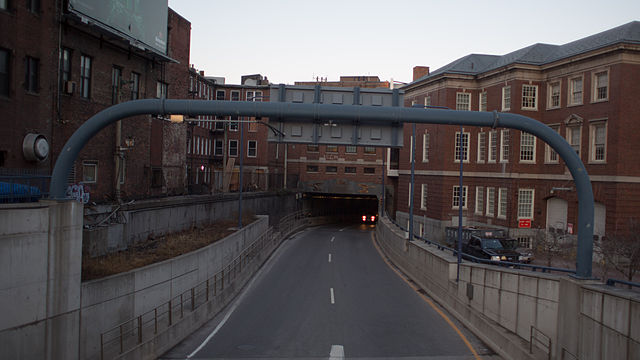 BOSTON – Commencing on Wednesday, a new stage of the $160 million Sumner Tunnel restoration project will commence. This nearly century-old tunnel will undergo daily closures for approximately two months.
The Sumner Tunnel serves as a crucial route for accessing the city, particularly for residents of East Boston and travelers heading to Logan Airport. As a result, the upcoming disruption is expected to have a substantial impact. Here are the key details regarding the closure:
How long will the closure last?
From July 5, 2023, to August 31, 2023, the tunnel will undergo a complete closure. Subsequently, during the fall and winter, the tunnel will be closed on most weekends. Additionally, in the summer of 2024, another complete closure is scheduled.
What neighborhoods will be most affected?
According to MassDOT, residents of East Boston, South Boston, and those living along the waterfront should anticipate increased traffic, while significant congestion is expected in the Ted Williams Tunnel and on the Tobin Bridge. Construction activities may also cause "noise and vibration" for residents and businesses in the North End.
How will this affect getting to Logan Airport?
Travelers are strongly advised against driving to Logan Airport during the summer, despite the continued operation of the adjacent Callahan Tunnel that provides access to East Boston. Massport recommends preparing for an additional two hours of travel time when arriving at or departing from the airport.
To facilitate alternative transportation, Logan Express is offering a 25% discount for online bookings, along with complimentary rides for children aged 17 and under. Additionally, individuals utilizing water transportation to reach the airport can obtain a ticket to bypass the regular security line.
As far as BostonAirportCab services to the airport are considered there will be an increase in distance traveled as we will need to take alternate routes and it will lead to a price rise. Other services that do not involve Logan Airport will remain unaffected.
What detours will be in place?
Individuals traveling from East Boston to downtown will be redirected to the Mass Pike/Ted Williams Tunnel, leading them to I-93. For those departing from Logan Airport and heading towards I-93 North, the detour will involve taking Route 1A North to Route 16, followed by a southbound route on Route 1, crossing the Tobin Bridge through Sullivan Square.
What about taking an Uber, Lyft, or taxi to the airport?
Finding a taxi or rideshare service to the airport this summer could pose a challenge, as some drivers have expressed their intention to avoid Logan altogether, as reported by WBZ-TV.
But Boston Airport Cab will continue to provide service without fail. You can trust us for all your airport transfers to/from Logan Airport.
What transit alternatives will be available?
Provided by MassDOT, here is a comprehensive overview of transit alternatives, which includes free travel on the Blue Line:
Travel to/from East Boston and North End
MBTA Blue Line and Parking
Riders will enjoy free travel on the entire Blue Line in both directions, as gates will remain open at all Blue Line stations from Wonderland to Bowdoin. To accommodate the increased ridership, an extra train will be added during the midday period on the Blue Line.
Furthermore, MBTA parking lots and garages along the Blue Line will offer reduced rates of $2 per day, and additional free parking options are available near Wood Island Station. For more details, please visit mbta.com/Sumner.
Discounted Tolls
Registered participants of the Resident Discount Program will enjoy discounted tolls for the Tobin Bridge and Ted Williams Tunnel. Additionally, real-time traffic monitoring will be accessible at 13 local intersections.
East Boston Ferry 
During the closure of the tunnel, the East Boston ferry will be provided free of charge. The East Boston ferry service operates between Lewis Mall in East Boston and Long Wharf in downtown Boston. Detailed schedules for the East Boston ferry service can be found online at mbta.com/ferry.
Travel to/from the North Shore
Commuter Rail and Parking
Commuter Rail fares from Salem and Swampscott to Zone 1A will be priced at $2.40, and parking at both Salem and Swampscott stations will be available for just $2 per day. Free parking is provided at various lots north of Salem, including Beverly, Gloucester, Hamilton/Wenham, Newburyport, North Beverly, Monserrat, Rowley, and West Gloucester. In addition, the benefits of the Blue Line also apply. Travelers from the North Shore are encouraged to use the parking lot at Wonderland Station.
Lynn Ferry
The Lynn Ferry will provide service between the Blossom St. dock in Lynn and Central Wharf in Boston, near the Aquarium. Free parking will be available at the City of Lynn-owned lot near the Blossom St. dock, and passengers are permitted to bring bicycles on board the ferry.
Passengers can use a Zone 1A fare ($2.40) for the Lynn Ferry. The Lynn Ferry will operate on weekdays only, offering 10 trips per day. The schedules are currently being finalized and will be released as soon as they are available